Equipment
The Bike
The most important bit! The bike was custom built around a Giant OCR "Compact Aluminium frame and forks.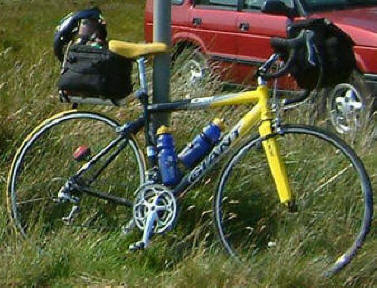 Chainset - Shimano 105 Rear mech, Front mech and 105 Triple chainrings.
Gearing - Shimano HG70 25-12 tooth cassette and 30 - 42 - 52 chainrings. (We were very glad of those low gears for some of the hills in Devon & Cornwall especially, and at the end of a tiring day sometimes just to give the legs a little less stress.
Wheels - Mavic Cosmos
Tyres - Continental Ultragatorskin 700c x 23
Pedals -Shimano SPD clip pedals with Specialized SPD shoes.
The Rest of the Kit
Luggage - Travelled lightweight with just a single Altura handlebar bag and rear rack bag. (See picture of bike fully loaded.) Stayed at YHA's mainly so no bedding was needed and used the excellent compact trek towel available in most good camping shops from Lifeventure to keep space and weight requirements to a minimum.
Tool Kit - Consisted of puncture kit and spare tubes, chain links and link tool, spoke key, multitool (inc allen keys), pliers, spare cables. We shared the tools between us to keep weight down, although we each carried our own puncture kits and 2 spare innertubes. Over the course of the trip repairs between us consisted of the tubes and puncture repair kit, the chain tool / spare links (as we had 2 broken chains), 2 spare tyres, and one wheel replacement. Keith and I also had our spokes retensioned at Chester.
Sundries - Other stuff we took was the usual such as first aid kit, camera, spare set of cycling kit, sunglasses
Food and Snacks - Hydration is very important and you need to keep topping up your fluid levels all the time. Each of us had 2 bottle carriers each mounted on the bike frame, and bottles that carried 750ml of liquid each. I carried one bottle of water and the second one had either water or a carbohydrate drink in it such as Lucozade Sport, depending on what we could find. Food snacks were generally made up with what was available and consisted of either fruit (bananas and the like) or chocolate bars. This supplemented our refreshments stops at café's or supermarket restaurants which we did at mid morning, lunchtime and mid afternoon. Little and often is the key.
Mapping - My main source of mapping was using the Memory Map Navigator electronic maps based on the OS 1 250 000 road atlas of Great Britain. I printed and enlarged the bits appropriate to our route. I also had loaded the appropriate 1 50 000 Landranger sections of the route onto my Compaq IPAQ linked to a bluetooth GPS so if we really were stuck coming into a city like Carlisle or Chester for instance where the 1 250 000 map doesn't have enough detail, we could call on the fifth member of the team, Gladys the GPS!
Safety - We all wore helmets for a majority of the journey, and Keith and I also had small circular bar-end rear view mirrors which are superb for keeping your eye on whats coming up behind you. Added with lights (including LED safety lights) reflective strips and reflective cycle clothing, this formed our key strategy in staying alive.